TEENS TAKE ON BIG TOBACCO IN EAST HANOVER, NJ!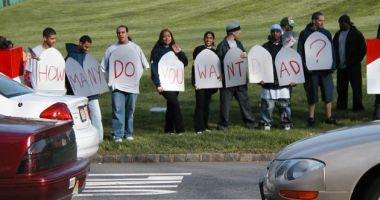 For as long as everyone can remember, Philip Morris, aka Altria, has held its Annual Meeting of Stockholders at its facility in Richmond, VA, a decidedly "tobacco-friendly" place. This year, however, the company chose to switch the location of the meeting to its Kraft facility in East Hanover, NJ. Perhaps Altria thought the move would prevent us from showing up to demonstrate. If so, they were WRONG.
On April 29, 2004, over 150 youth and adults from CA, DC, HI, NH, NJ, NM, NY, WI, Colombia, Senegal, Thailand, and Ukraine* were outside the location of the Altria Annual Meeting of Stockholders bright and early in the morning to hold the company accountable for promoting death and disease around the world!
Click on the links below or to the left for more information about events around Altria's 2004 Meeting of Stockholders:
For more information about any of the above events, contact Essential Action. Also contact Essential Action if you:
Know of any youth programs that might be interested in participating next year
Would like to buy a share of Altria stock, to enable more youth advocates to attend the Altria meeting next year
Would like permission to use any photos of the events
* Participating groups (in alphabetical order by state): Youth Leadership Institute (CA), Essential Action (DC), REAL (HI), Dover Youth to Youth (NH), Expose (NM), Reality Check (NY), FACT (WI)